Discover more from Joe Mainwaring's Newsletter
A periodic newsletter where I share life updates.
Welcome to the first edition of Mainwaring Monthly, a newsletter where I share my personal life updates. While I will make this newsletter open, my intended audience will be those who know me personally (family, friends, colleagues), and the content will resemble the type of discussions I may have with some or all of you in person.
As I reflect on the current state of social networking and the direction things are heading, I'm accepting that we're past our prime of interconnectivity. We're too polarized as a society today and the roadmaps for these major social networks are only going to segregate us further, so it felt like an appropriate time to implement a network-agnostic communication medium; one free of opinions and algorithms.
Life: A Return to Breckenridge
Beginning in 2017, my close circle of friends from college started the tradition of an annual 5-Day Ski Trip to Colorado, where we bounce between Breckenridge, Vail, and Keystone resorts for an enriched experience of real downhill snowboarding/skiing.
It was during our 2021 Ski Trip that my cancer symptoms hit a turning point, transforming from physical discomfort into debilitating pain. It had a significant impact on my experience that trip and the cancer treatment which began several weeks later would leave me physically unable to participate in 2022.
Finally healthy enough to rejoin for 2023, I went as far as to add an extra 2 days in Denver before the Ski Trip to spend time with my twin cousins Louis and Maxwell Brooks. The Brooks brothers are season ticket holders to the Colorado Avalanche, so Louis took me for a home game against the Las Vegas Golden Knights. The Avalanche beat the Golden Knights 3-0.
On Wednesday March 1st, my friends Andrew, Evan, and Tyler arrived in Denver from Detroit, and we met up and made our way to our ski in/out rental in Breckenridge. That Thursday, our rental location had us steps away from the lifts and we ended up as some of the first people on the mountain that morning. Let me tell you something: Downhill snowboarding on freshly groomed trails is a dream. We stayed out for a little under 6 hours before finally taking a break. By that time, I had snowboarded a cumulative total of 14 miles and had burned more calories than I had running the Chicago Marathon in 2014.
For Friday, we made the drive over to Vail and I got a few good runs in, but ended up taking a blow to the head fairly early in the day and my performance went downhill from there, forcing me to throw in the towel early. On Saturday, still recovering from my injury the day prior, I opted to stay off the mountain and decided instead to have a choose-your-own-adventure in downtown Breckenridge before spending the majority of the afternoon drinking in hot tubs. That evening, we decided to indulge in a fancy dinner to celebrate the trip by going to Arum, where we enjoyed a bottle of wine alongside some very delicious cuts of steak 🥩
Come Sunday, we packed our rental and made our way back to Denver International Airport, the guys heading back to Detroit and Chicago for myself. Overall, it was great week to get away from the monotony of my weekly hustle and grind routine, and a tradition I intend to repeat in future years.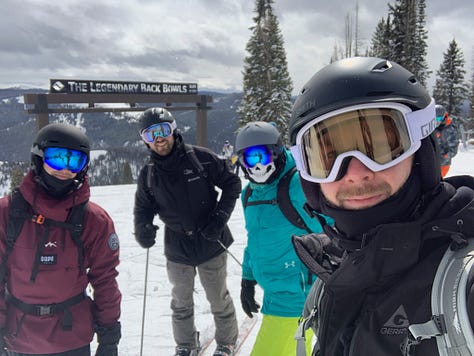 ---
Cancer: Living With Stage IV
March marks 24 months since I was diagnosed with Stage IV Colon Cancer. Overall, I'm healthy and living the same quality of life that I had pre-diagnosis - with the notable exception of the time I have to allocate monthly towards treatment. My Stage IV diagnosis is a chronic condition, and as such my treatment plan is measured in years. As I write this update, I'm receiving my 44th round of Chemotherapy. Talk about A LOT of rounds!
I count myself lucky to have been diagnosed while living in downtown Chicago, as I live 1.2 miles from Northwestern Medicine, one of the top 10 hospital systems in the US. I have a world-class medical team in both Oncology and Colorectal who have successfully reversed the life-threatening condition that forced me to their Emergency Room in April of 2021. I'll share more about the backstory to my cancer in a later newsletter, but for now know that I'm healthy, that I'm am closely monitored (lots of tests), and my treatment plan operates on a feedback cycle involving a set of appointments:
Chemotherapy every 2 weeks for 5 hours in-clinic, and 46 hours at home with a portable infusion pump.

CT Scans every 6 weeks (2 hours each)
I had my most recent CT scan last week, so my Oncologist used the information from that snapshot to adjust my treatment plan for my most recent round, adding a new drug (+90 minutes to each appointment). This change was in response to low-concern, non-threatening growth trend we observed over the last two CT scans. I'll spare the details, but adding a new drug creates the potential for new side effects. I'm very well adapted to Chemotherapy and have a minimalist approach to medication, but introducing this new drug could change the calculus that is my closely monitored biology.
---
Upcoming: Enjoying Life!
I'm still plotting my next international travel, but I am looking forward to what I have booked so far for escapes and entertainment.
Shoutout: John Roa's new moonshot, Caden
John Roa is a serial entrepreneur who I befriended during our undergraduate studies at Western Michigan University. After college, John went to start the UX agency Akta, which was sold to SalesForce in 2015.
That success has enabled John to branch out as a published author, and venture capitalist, making plays like a $50 million euro investment in the Greek Hospitality Industry. After taking time off from tech, John is returning to his roots with his latest moonshot: Caden.
Caden is a data-privacy service intended to turn the tables on the traditional ad-tech industry by incentivizing users to own their data and profit from sharing it. Earn up to $50 a month for your data! Join the waitlist today using my referral code: EA06
---
Other Highlights
Should AI development beyond GPT-4 be paused? A recent discussion I started in the developer community Dev.to upon the announcement of an open letter from over 1,000 industry experts calling for a pause on further development.

New Found Glory: A punk rock favorite for Millennials, the band is currently on their Make the Most of It Acoustic Tour. When I went to their Chicago Show, I discovered the tour is a charitable effort to raise funds for bandmate Chad Gilbert who is currently fighting cancer. If you can't make it to one of their shows, buy the album from your favorite retailer to show your support!

Diablo IV: I played both weekends of the beta and will be preordering the game for its June release. If Diablo II meets Skyrim sounds like your kind of game, check it out.

Hello Fresh: Recently had the opportunity to receive a free box of 10 meals and decided to stick around for a couple months to sample their diverse selection. You too can have a free box from HelloFresh, follow this link and use code FIH-FBNUA52FC2OC to get started.

Bad Batch: The Star Wars meets the A-Team story just wrapped up it's second season and ended in a very emotional cliffhanger. I won't spoil the details but if you like Star Wars, add this to your Disney+ Watchlist.

Star Trek Picard: The crew of the USS Enterprise-D reunite for one last adventure set in a more dark & gritty tone. A must-watch if you were an old school TNG, DS9, or Voyager Trekkie!

Sunda Chicago: If you're looking to dine at a restaurant with an upscale ambiance and a fancy asian cuisine, give this place a try next time you're looking for restaurants in downtown Chicago.

---
That's it for this month's newsletter. Thank you for taking the time to read through my updates. I appreciate your ongoing support and love.
Take care,
Joe
---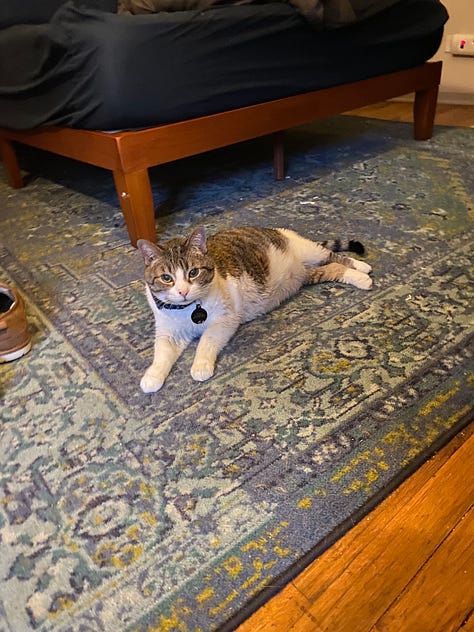 Thanks for reading Mainwaring Monthly! Subscribe for free to receive new posts and support my work.